With Seeking Stars International Sunni Youth 
2021 CE | 1442 Hijri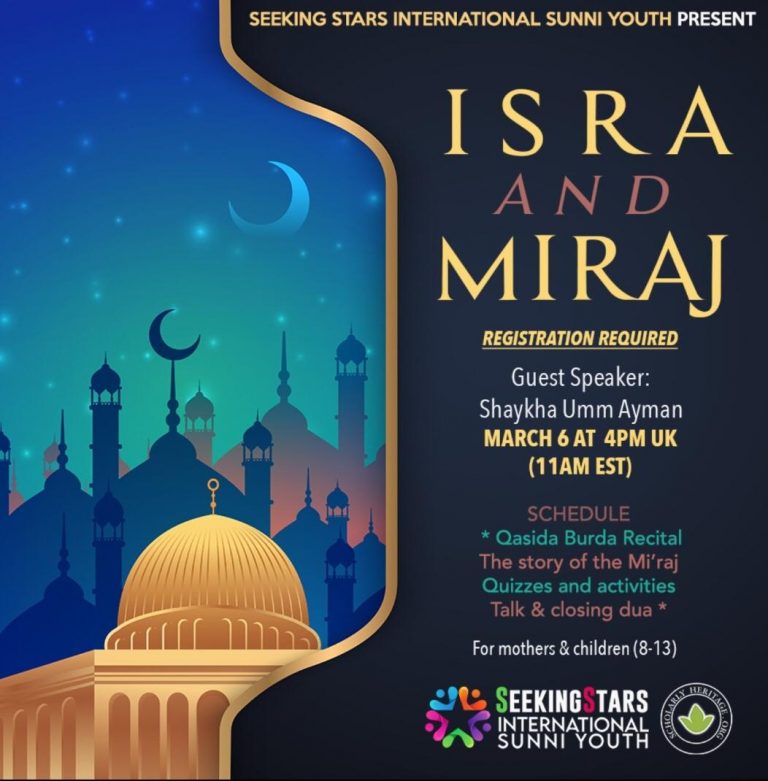 Seeking Stars and Voice of the Hearts Qasida invite you and your children to join us for a re-telling of the most miraculous event that ever happened in the history of mankind:

ISRA AND MIRAJ
Date: March 6th 2021
Time: 4pm UK/11am EST
PROGRAM
A wonderful group of children and youth from all over the world will be delighting us with not only their own narration but we will also hear a rendition of Chapter 7 of the Qasida Burda Sharifa .There will be quizzes and other activities for your children to participate in, as well as a Dars by our guest of honour, Sheikha Umm Ayman.
REGISTRATION
A free event for mothers, youngsters (boys max age-13) Registration required before 4th March. Please register at Eventbrite
DONATE
This event is a fundraiser for Scholarly Heritage. Please donate generously at this link.
Seeking Stars International Sunni Youth is an initiative that combines religious education for youth with practical service for Shaykh Muhammad al-Yaqoubi. 
ACTIVITIES
Seeking stars has been functioning for about a year now, giving regular courses and arranging special events like:
Shama'il al-Habib al-Mustafa
The Moroccan Revelations
The 10 Men Promised Jannah Series
The 4 Woman of Jannah
A virtual summer camp in 2020
A special Rabi ul Awwal Mawlid
Qasida Burda
Isra & Miraj
Major events are fundraisers for Scholarly Heritage.
EDUCATION
The main premise is to impress the pure young souls with the teachings of Shaykh Muhammad Al-Yaqoubi hafizhahuAllah, in a manner that is appropriate to their age. This is provided by engaging a group of dedicated teachers, under the supervision of Shaykha Umm Ayman.
SERVICE
Serving is a way to expess gratitude, and who is more deserving of this than our Teacher and Guide, great luminary of our time, Shaykh Muhammad al-Yaqoubi?! In cooperation with Scholarly Heritage, our young students are trained in practical skills such as public speaking,how to handle social media, organising and handling funds.
I have noticed my child willingly and eagerly getting ready for his meetings with his teachers. He understands that what he is engaging in is khidmah for the Muslim Ummah. By taking part, my 9 year old son knows he is helping to spread the voice of Islam.

Parent

I cannot express enough thanks for the cultivation of love for and understanding of the Sunnah of the Prophet ﷺ. I cannot thank Seeking Stars, VOH and especially Scholarly Heritage enough for all their efforts in installing an understanding and love for khidmah and deen in my son's and daughter's hearts!

Parent

Involvement of our children in this wonderful program has instilled in them the value of teamwork, cooperation, awareness and how our deen can improve other people's lives. Our children overall have become more confident in their oral and written presentation skills thanks to this outstanding program and teachers.

Family

Through the guidance of my Sheikh, through the help of my teachers, and through the learning experiences with my teammates, I was able to accomplish many things I never did, such as learning the meaning of the beautiful chapter of the Qasidah Burdah in English. – Serving is an opportunity that sprouts. I take this opportunity."

Student
Seeking Stars International Youth is an initiative that combines religious education for youth with practical service for Shaykh Muhammad al-Yaqoubi.