Newsletter No.1 (2021) | Book Release with Q&A
Assalamu alaykum dear all,
On the 9th of April, Signatora is releasing the Arabic-English Glossary by Shaykh Muhammad Al-Yaqoubi, and to coincide with that, Shaykh Muhammad Al-Yaqoubi will be giving a live Q&A on Language Learning.  

Scholarly Heritage is honoured to co-host this exciting arrival and we look forward to your participation! 
THE BOOK
It is a modern didactic poem with over 700 words, aimed at helping the student to build vocabulary in both languages. A novel way to learn, suitable for both English learners of Arabic and vice versa – music to the ears of language lovers and learners everywhere!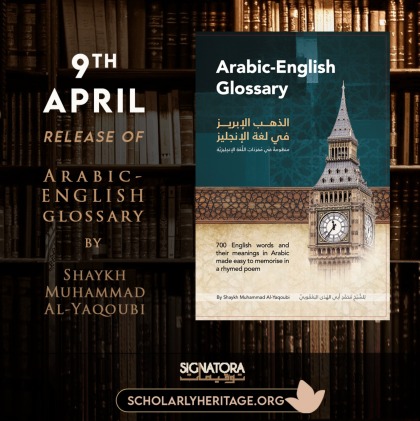 LIVE Q&A
with Shaykh Muhammad Al-Yaqoubi

In connection with the book launch, Shaykh Muhammad Al-Yaqoubi will answer Questions on Language learning.
The Shaykh has studied seven languages, from beginner's level to advanced, giving him a wealth of experience to offer every language student. We invite you, our followers and supporters, to pose your questions at info@scholarlyheritage.org or on our Social Media.
The Shaykh will inshaAllah answer as many questions as time allows in a
Live session
DATE: This Friday 9th April 2021
TIME : 7PM UK time (6 PM GMT)
On YouTube: youtube.com/shaykhalyaqoubi/LIVE
SUBMIT A QUESTION
Questions are accepted via email at: info@scholarlyheritage.org 
no later than the 8th of April!

You can also submit questions on our social media: 
Like, comment, share and write your questions!
Hoping to join you online on Friday inshaAllah!
With kind regards
The Scholarly Heritage Service Team