DERBY'S FLAVOURSOME FRIDAY MEALS
Flavoursome Friday Meals, is an initiative set up by followers and lovers of Shaykh Muhammad al-Yaqoubi. They support his mission by fundraising for Scholarly Heritage.
We are fundraising on the ground in the UK, by delivering food boxes to people in the local community. A freshly cooked three course meal is personally delivered by the members of our team. 
Individuals in the community often sponsor these meals to be gifted to others – a much appreciated gesture of neighbourly concern, while at the same time contributing to Scholarly Heritage and spreading the word of its mission!
This project was spearheaded by the Derby team during Ramadhan 1441 and now again they are ready to go in the blessed month of Dhul Hijjah. We are looking to develop this as a long term on-going project, that will hopefully inspire our siblings in other communities.
We are hopeful moving forward, that other towns and cities will follow pursuit. Joining us and working together as one team across the nation. By promoting the men of Allah, we hope to gain His acceptance and rewards in both Dunya and Akhirah.
The funds raised are all 100% sadaqah, the donations are fully gifted towards Scholarly Heritage.
Donate to sponsor this fundraiser
Please contact
the Derby's Flavoursome Friday Meals team
HAVE A GLIMPSE OF THE FLAVOURSOME FRIDAY MEALS!
Salam sis,
I wanted to say a huge well done for the wonderful work you are doing. May Allah SubhanaHu wa Ta'ala reward you abundantly. 
The food was finger-licking good.. Will definitely be ordering again!!
Double benefits: 1) reward for giving charity 2) yummy food delivered to the door with a smile. 
Food was amazing, mashaAllah. We all really loved it, can't fault a thing. My brother and sister in law are already planning on ordering again! May Allah reward you for all your efforts and help your cause.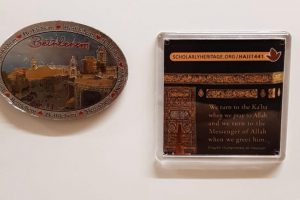 Jazakum Allahu khayran food was on spot mashaAllah!!
Forgot to give my feedback!
Al hamduliLlah! Looking forward to next menu x
A brilliant initiative set-up which inshaAllah will benefit everyone involved. The food was delicious – a generous amount indeed! Add to that, a magnet serving to be a perfect reminder, not only during this blessed month but inshaAllah a life time. 
May Allah SubhanaHu wa Ta'ala bless you all in your efforts and make this project a success.
Donate to Scholarly Heritage Projects