Newsletter No.1 (2020) – Muharram 1442
The 2nd of Muharram marks the Anniversary of the
Sahih al-Buhari Rectical in Istanbul 1441 AH / 2019 CE

of Shaykh Muhamamd al-Yaqoubi
From His Eminence Shaykh Muhamad al-Yaqoubi
New Year greeting card
From Shaykh Muhamad al-Yaqoubi
Hadith of Ashura
Recited by His Eminence Shaykh Muhammad al-Yaqoubi
English translation forthcoming
Islamic Center of Flint, Michigan, USA | Friday/Saturday 21/22 August 2020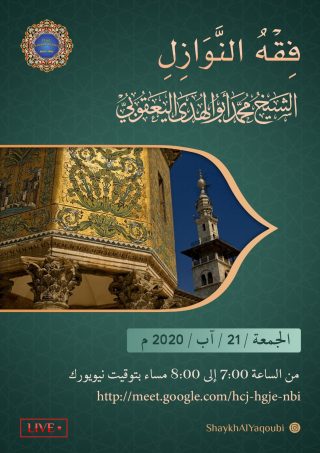 فِـــقْـــهُ الــنَّــوَازِلِ
الشيخ محمد أبو الهدى اليعقوبي
المركز الإسلامي بمدينة فلنيت بولاية ميتشيغين الأمريكية 
This New Year comes with fresh energy and an array of exciting new projects: Sayyiduna Al-Shaykh Muhammad Al-Yaqoubi has generously invited release of some of his work in the English language. Scholarly Heritage has been entrusted to support this work with translations and video subtitles. More about this soon insha Allah! Please continue your dedicated efforts, through generous donations and offering your valuable time and professional skills as a volunteer.
Please follow us on the links below:
PROJECTS – FUNDRAISERS – VOLUNTEERS – BLOG
May Allah bless you and give us all tawfiq! 
The Scholarly Heritage Team
Donate to Scholarly Heritage Projects