Celebrating the Prophet Muhammad ﷺ
ONLINE EVENT – CELEBRATING THE PROPHET ﷺ
SHAYKH


MUHAMMAD AL-YAQOUBI


READING AND COMMENTING ON HIS BOOK
Discover the sincere passion of a Lover of the Prophet Muhammad ﷺ in our modern time.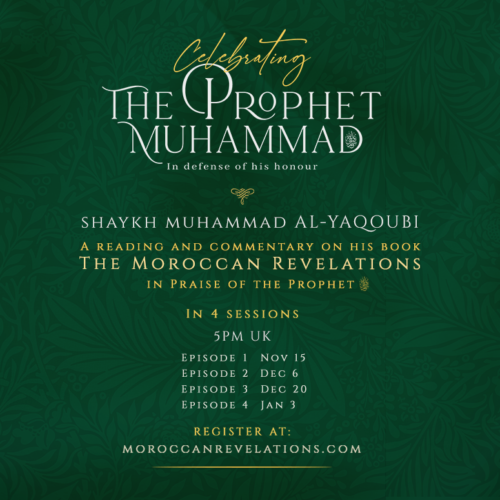 CELEBRATING THE PROPHET MUHAMMAD ﷺ
When ignorant people insult the Best of Creation ﷺ, the response those who know him and love him ﷺ is to sharpen their swords – that is: their pens – and excel in the description of his 
ﷺ
 beauty and perfection.
The response of Shaykh Muhammad al-Yaqoubi is to offer his own reading of his poem, "The Moroccan Revelations", with an in depth commentary that allows us to accompany him on a personal journey to the Beloved of Allah ﷺ .
DISCOVER MORE & REGISTER AT