Newsletter No.6 (2020) – Celebrating the Prophet ﷺ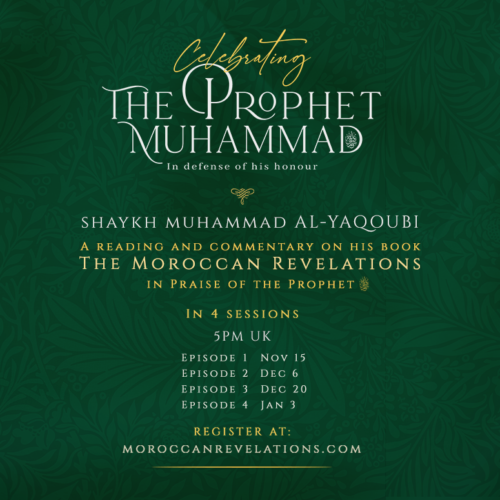 CELEBRATING THE PROPHET MUHAMMAD ﷺ
When ignorant people insult the Best of Creation ﷺ, the response of those who know him and love him ﷺ is to sharpen their arms – that is: their pens – and excel in the description of his beauty and perfection.
The response of Shaykh Muhammad al-Yaqoubi is to offer his own reading of a most remarkable poem, "The Moroccan Revelations", with an in depth commentary that allows us to accompany him on a personal journey to the Beloved of Allah ﷺ . 
EVENT PROGRAMME
This online event is offered in four parts:

Episode 1: (sent Nov 15)
Episode 2: Dec 6 
Episode 3: Dec 20
Episode 4: Jan 3
Admission is free – Registration is required at moroccanrevelations.com/
GET YOUR COPY OF THE BOOK

The book "The Moroccan Revelations" is now available in English and Arabic at Signatora.com/shopping/ Take this opportunity and order your own copy in advance, to have it at hand at the next session!
"My heart tasted something new with the poems of Shaykh Muhammad al-Yaqoubi that it never tasted before."
POETRY COMPETITION
Scholarly Heritage invites everyone to join in by offering us what flows from your own pen in praise of the Elect of Allah ﷺ. The winner get a prize and the chance for his words to be recited to thousands! 

Watch out for it on our social media!
GET UPDATES DIRECTLY TO YOUR PHONE

Join the Celebrating The Prophet WhatsApp group to recieve updates and links directly to your phone.