Newsletter No. 7 (2020) – Celebrating the Prophet ﷺ
NEWSLETTER No.7 – ONLINE EVENT – CELEBRATING THE PROPHET ﷺ
SHAYKH


MUHAMMAD AL-YAQOUBI


READING AND COMMENTING ON HIS BOOK
Discover the sincere passion of a Lover of the Prophet Muhammad ﷺ in our modern time.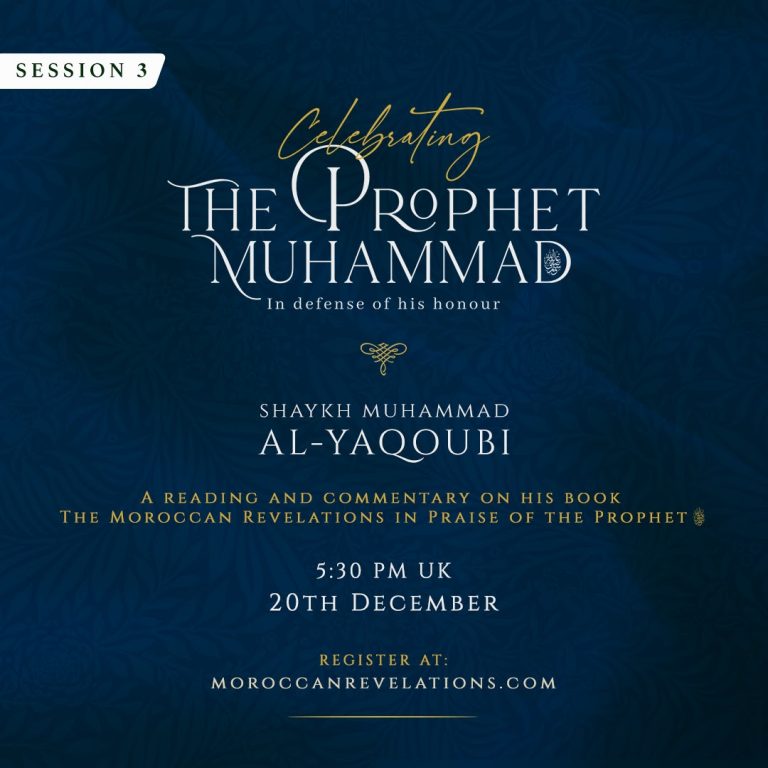 CELEBRATING THE PROPHET MUHAMMAD ﷺ
Assalamu alaykum dear all,
These last few weeks we have been gratified with the online presence of Shaykh Muhammad Al-Yaqoubi, reading and explaining his marvellous poem 'The Moroccan Revelations', which we are looking forward to be continued.
The next session is scheduled for Sunday, 20th of December at 5:30 pm UK time
Attend with your family – and spread the word, to let many others bask in the blessings of these penetrating sessions and draw closer to the Prophet Muhammad ﷺ.
REGISTER AND SHARE
Please sign up (if not already done) and share around the registration link:
moroccanrevelations.com#register
to receive the session link directly into your inbox.
GET INVOLVED
You can support this event by sharing around the registration link sending us your feedback joining our Ambassadors of Love (drop us and email to
info@scholarlyheritage.org
) Looking forward to meeting this Sunday!
The Scholarly Heritage Service Team